Bavarian's First Generation of Brueggemanns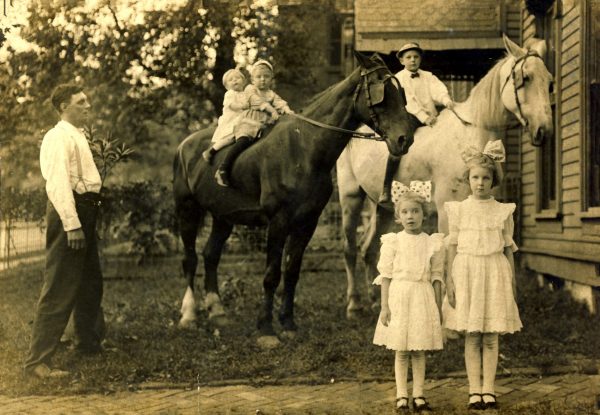 Bernard Henry (Ben) Brueggemann, who was born February 1, 1874, founded Brueggemann Trucking Co. in 1901. He ran this horse-drawn dray line for seventeen years.
Ben married Anna Fedders on June 20, 1900. Anna played an important role in the lives of her husband, children, and grandchildren and, to these latter, was fondly known as "Grandma Snooks."
After seventeen short years of married life, Ben died on April 13, 1918, of influenza, leaving the care of his wife, children, and business to his eldest son, Lawrence.
Bavarian's Second Generation of Brueggemanns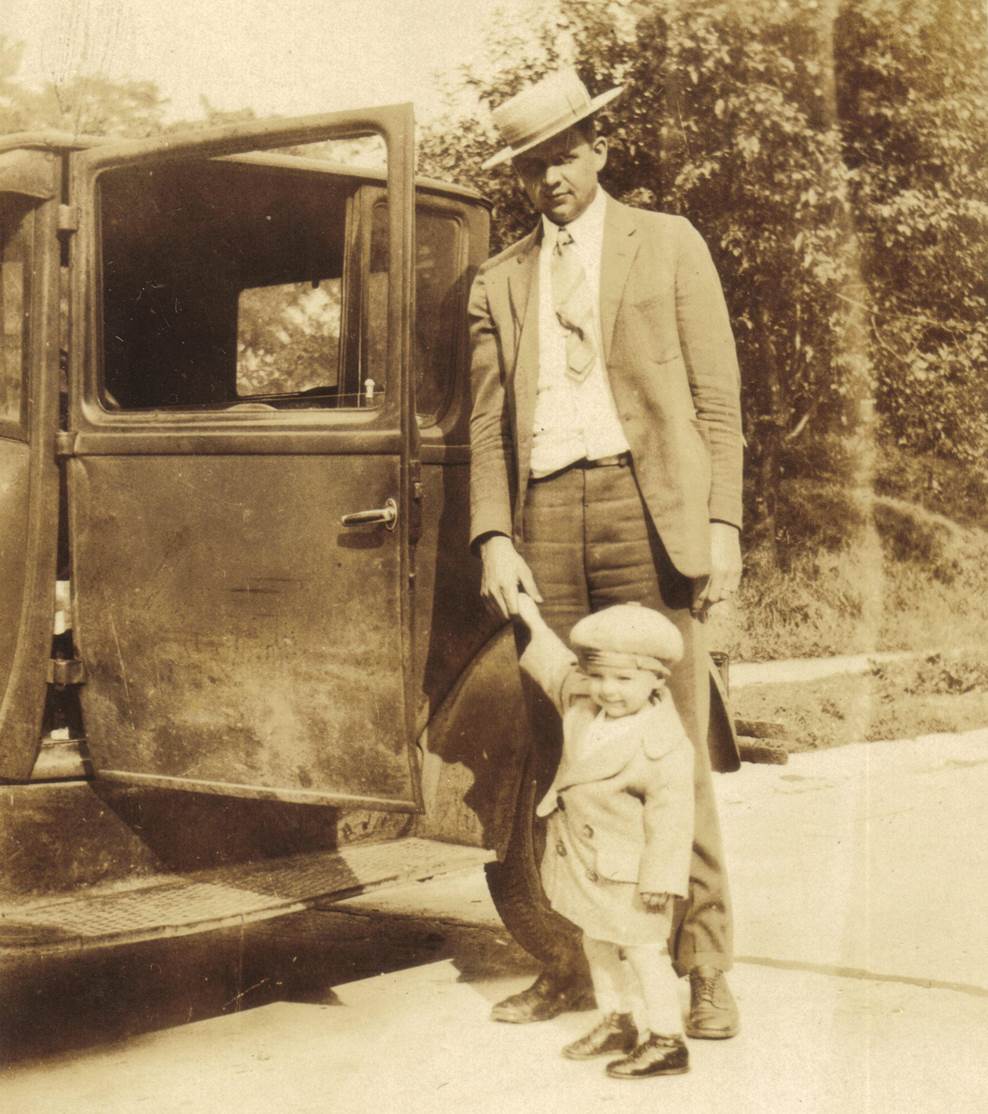 Lawrence Brueggemann, born in 1901, inherited his father's Brueggemann Trucking Co. when he was just sixteen years old. Despite his young age, he managed the company successfully from 1918 until 1969. When his father died in 1918, Lawrence was left to care for the company, his mother, and his younger siblings. Lawrence willingly shouldered these cares and dove into the work with a vigor that never diminished.
Despite having a more than full-time job running his company, Lawrence found time to marry and begin his own family. He married Emma Rechtin on November 26, 1925, and together they had five children. The family weathered the storms of the Great Depression, but lost nearly everything when the government contractors with which the Brueggemann Trucking Co. worked defaulted on their payments to Lawrence's company.
Lawrence was urged to declare bankruptcy and default on his own obligations in order to save his company. However, he felt that doing so would be unethical and, instead, chose to sell most of his assets (including the family home!) in order to meet his obligations. He kept only the oldest trucks in the company fleet and continued his business. By this time, the horse-drawn dray line his father had founded was but a memory as a motor trucking business had taken its place.
In 1934, Lawrence reorganized the Brueggemann Trucking Co. and incorporated the business as Bavarian Trucking Co., Inc. By this time, the company had transitioned from freight hauling to primarily gravel excavation and hauling. Then, in 1959, Lawrence led Bavarian through yet another transition; this time, the company entered the waste hauling and disposal industry. Lawrence continued to helm Bavarian until he passed the leadership to his son Bernie in 1969. He had led the family business for fifty-one years.
Lawrence continued to advise Bernie on company affairs and to operate landfill equipment until his death in 1989. By this time, his family included five children, forty-three grandchildren and ninety-one great-grandchildren.
Bavarian's Third Generation of Brueggemanns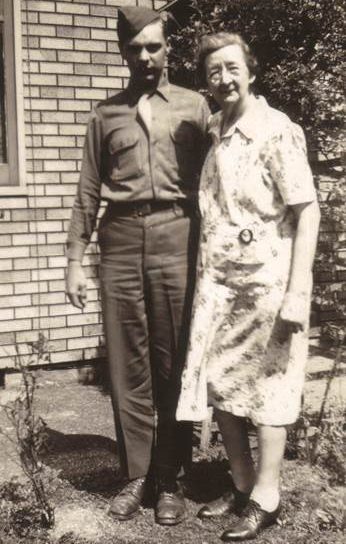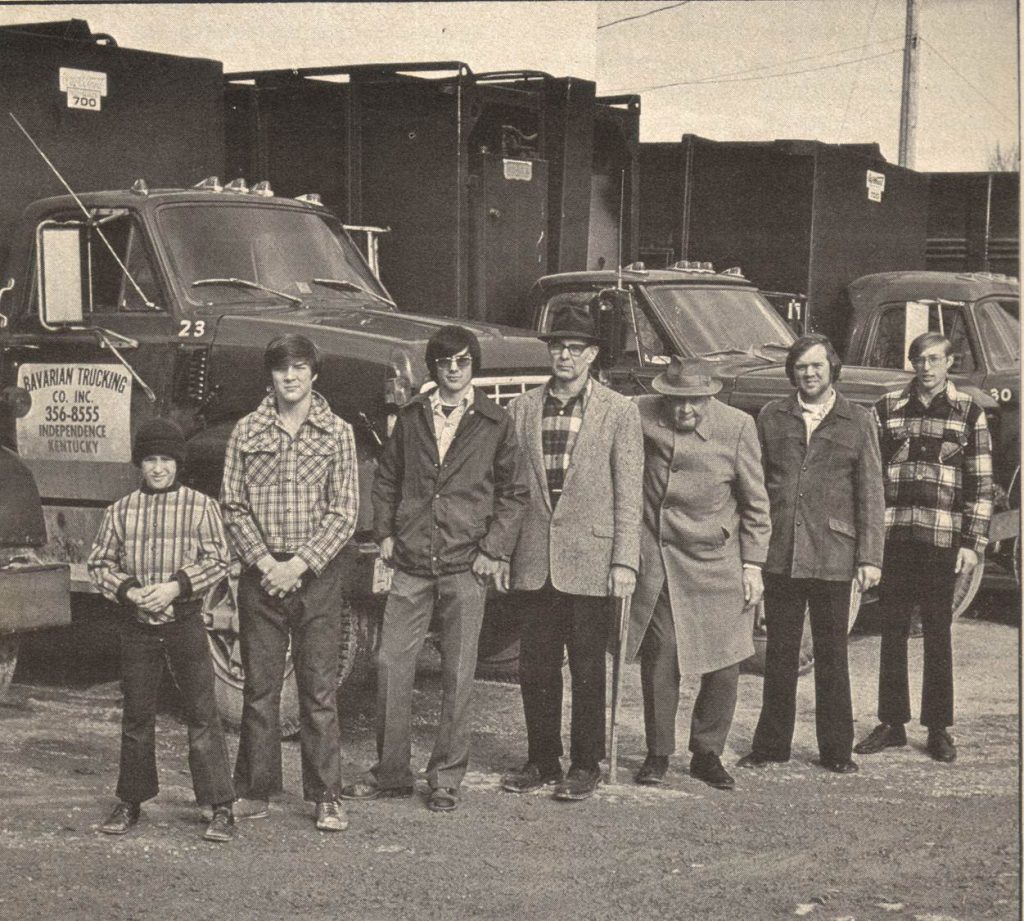 Bernard Brueggemann was born on September 20, 1927, and was the oldest of five children. Bernie grew up watching his father, Lawrence, run the family business and was six years old when Lawrence reorganized the Brueggemann Trucking Co. into the Bavarian Trucking Co., Inc.
In 1941, because most of Bavarian's employees had enlisted in the military, Bernie quit school in order to help his father run the business that put food on the family table. He was fourteen at the time. Four years later, Bernie was himself drafted into the army and sent to Japan where, because of his experience working in Bavarian's truck shop, he served as a head mechanic.
Bernie had a number of Japanese workers under his supervision during his time in Japan and, despite their differences, always sought to treat them fairly. This responsibility and experience helped forge Bernie's ability to manage employees and balance his duties and interests with the needs of others. Of course, he had learned these skills from his father, but in Japan, Bernie was able to prove what he had learned.
It was also in Japan that Bernie demonstrated his unwavering commitment to the Catholic Faith he had learned from his deeply religious parents. He would often give up his lunch time or other free time in order to serve Mass for the chaplain, the Reverend Father Green. This habit would last throughout Bernie's life as he would rise extra early in the morning or travel long distances for the opportunity to attend Mass.
When Bernie returned home, he held several odd jobs, including one selling equipment, before his eventual return to his job under his father at Bavarian. He also met and dated Rita Huber during this time. They wed on August 19, 1950. Together, the happy couple had six children–five sons and one daughter. Rita was heavily involved in helping her husband run Bavarian. She worked for many years as the company secretary and helped keep the company running smoothly throughout her long tenure.
In 1969, Lawrence, Bernie's father, retired from his Presidency at Bavarian and left the company in Bernie's hands. In 1973, Bernie led Bavarian to purchase the landfill site near Walton, Kentucky, that Bavarian owns and operates today.
In 1998, a few years after his eldest son and company Vice-president, Larry, died, Bernie chose to pass the company he had led for nearly thirty years to his son Jim. Bernie retired from Bavarian's "driver's seat" in 1998, but continued to advise Jim on company business.
For nearly a decade after his retirement, Bernie loved to drive a rear-load garbage truck and collect residential waste. In fact, Bavarian would sometimes receive calls from concerned customers wanting to know why the company allowed a seventy-year-old to pitch trash! But, Bernie loved to work and enjoyed contributing to Bavarian's reputation of highly personalized service. After all, what other company's owner would personally collect his customers' waste?
Bernie lost his beloved wife of fifty-eight years in 2008. He followed her in death on February 19, 2011. At the time, his family had grown to include thirty-five grandchildren and eleven great-grandchildren.
Bavarian's Fourth Generation of Brueggemanns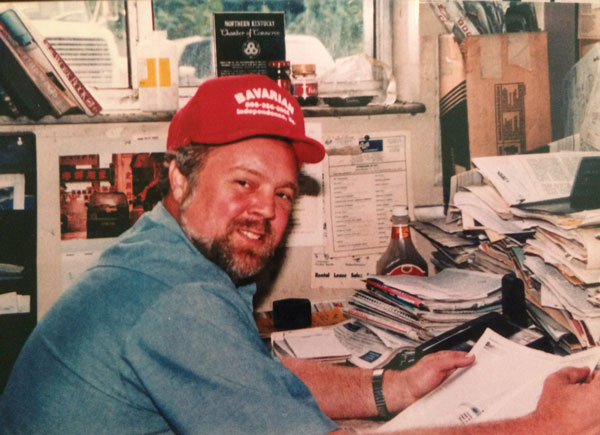 Larry Brueggemann was born January 8, 1952, the first child of Bernie and Rita Brueggemann. As the eldest son, Larry grew up helping his father and grandfather in the family business. His early years were coincidental with Bavarian's transformation from a freight hauling business into a waste disposal company. Due to his helping in the family business pre-school and on Saturdays and vacations, and his familiarity with the whole company, Larry knew the waste collection routes Bavarian used before they were ever committed to paper. Consequently, he was able to prevent dire company emergencies when driver absences occurred. Larry's second grade teacher even commented once, years later, that she fondly remembered receiving notes excusing Larry from school so he could direct a new or substitute driver for a few days.
When he grew up, Larry was at different times and, often, concurrently, mechanic, truck driver, dispatcher, General Manager, and company Vice-president. His undying concern for others and patience in adversity combined to make him employee and public relations expert par excellence.
Larry married Diane Schwartz on October 14, 1972, and they had seven children together, two of whom work for Bavarian. Unfortunately, Larry's health declined in the early '90's and death took him on October 24, 1995, as he prepared for another day at the job he loved so well.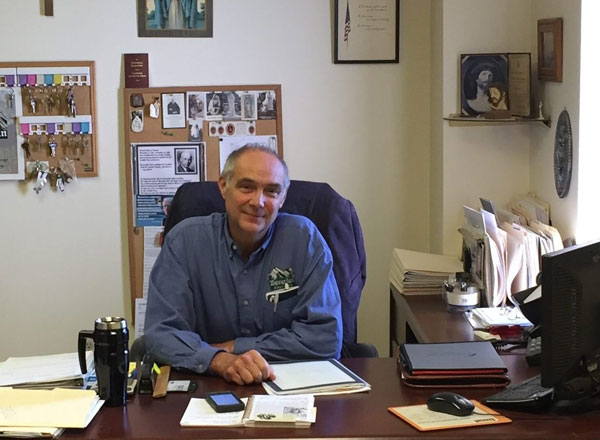 James Brueggemann was born February 22, 1960, the third son of Bernie and Rita Brueggemann. Like his brothers, Jim worked at the family company from a very young age on weekends and vacations. After the first semester of tenth grade, Jim began working for Bavarian full-time. The duties and responsibilities given to him as a young lad undoubtedly aided him later when his father, Bernie, passed the worn sock "leader's" hat to him. That is, in June 1998, Jim received the role of the President of Bavarian from his father, a role he continues to serve today.
On May 3, 1980, Jim married Maria Schappacher of Clarksburg, Ohio, and together they were blessed with sixteen children. Jim, when asked about his large family, would jokingly comment: "Sometimes it's hard to hire help so you have to grow your own!" His words certainly have relevance because today seven of Jim's sons work for Bavarian and are the fifth generation of the family to operate the family business.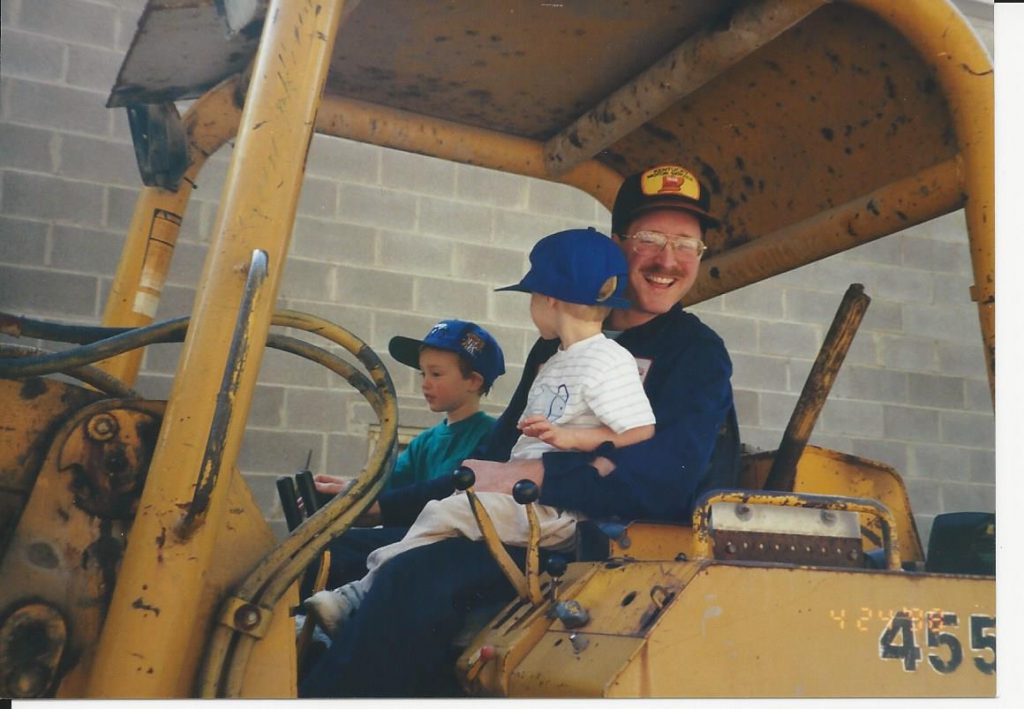 John Brueggemann was born on August 28, 1965, and is the youngest son of Bernie and Rita Brueggemann. His first experiences working at Bavarian were at a young age after school and during the summer helping his older brothers and the other mechanics keep the humble fleet of Bavarian refuse trucks in repair. John also did his share of going with drivers to learn their routes so they could go on vacation without the customers suffering any loss of service. Eventually, John took over the job of payroll and account manager for Bavarian – a post he held until 1996. Currently, he serves the dual role of Vice-president and Corporate Secretary.
John married Lisa Shawhan on July 17, 1993, and they now have thirteen children, three of whom work in the family business on a full-time basis.
Bavarian's Fifth Generation of Brueggemanns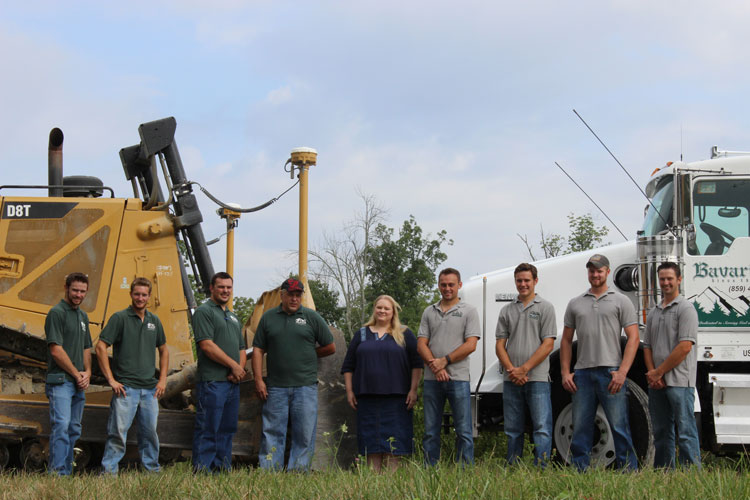 Seven of Jim Brueggemann's eight sons currently work for Bavarian and fulfill a wide range of company functions. The eldest son, Dominic, is Bavarian's General Manager. Nicholas, the second son, operates Bavarian's landfill as the Site Manager. Jim's third son, Gabriel, is Bavarian's Purchasing Manager. The fourth son, Jerome, serves as Bavarian's Property Maintenance Manager. Ignatius, Jim's fifth son, works as a Gas Systems Specialist for Bavarian. Stanley, the sixth son, manages the repair shop's parts inventory, and the seventh son, Joachim, helps with site operations and the family farm.
In addition, three of John Brueggemann's sons, Benedict, Patrick, and Joseph, work for Bavarian as Landfill Operators and two of Larry Brueggemann's children, Chad and Teresa, work for Bavarian as Landfill Shop Manager and Scale Clerk, respectively.